If you have decided to purchase a pet goat for your family – you've come to the right spot. Goat Companions of Southern California specializes in raising friendly, healthy PET goats that will make a great addition to your family. See the ABOUT page for additional information.
With our current economic situation many families are exploring a more self-sufficient lifestyle. Many are purchasing a few Nigerian Dwarf or Mini-Nubian dairy goats and chickens, along with planting small backyard gardens (did you know that goat manure can be a real gardening asset). Nigerian Dwarf or Mini-Nubian goats only require a small amount of space and can provide your family with a year round supply of fresh goat milk and cheese. Two dwarf goats need only a secure pen with shelter from sun, wind and rain (and predators should you live in an afflicted area). They are easy keepers and a real pleasure to own.
Discounted prices on select goats – see Does (Dams) on our menu.
FEATURED KIDS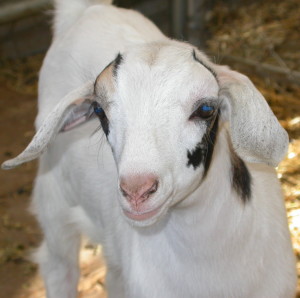 LEXI
Nigerian Dwarf / Mini Nubian Doeling
dob 5.23.14

All goats have been socialized on our family ranch and are loving and trusting of people. Goats are great backyard pets with unique and endearing personalities – just like your beloved family dog. The kids are fun to watch – set up a little enclosed play yard for them and watch them jump and skip and play together. So very cute!



Goats are herd animals and a single goat can become listless, sickly and pine away. So, you must already have a goat or purchase a minimum of two from us (no exceptions).

We spend time holding & playing with the new kids so they become very human friendly and learn to know their names. If requested, we can also provide bottle feeding for your kids.


See specific listing for pricing and terms. We discount when you purchase a buckling and a doeling.
We have other available goats so if you don't see the goat you want, give us a call!
---

American Goat Society
Member

American Dairy Goat Association
Member

International Nubian Breeders Association
Member